The goal of skin resurfacing at Virtu is to super exfoliate the outer layer of the skin to minimize acne and other scars, age lines and wrinkles. We have several options from which to choose – Micro-Dermabrasion, Chemical Peels or Pintra Skin Rejuvenation.
Before deciding on a skin resurfacing treatment, we will recommend a skin care regimen prior to the treatment. If you have extensive damage from aging or injury, more than one treatment may be necessary.
MICRO-DERMABRASION
Micro-Dermabrasion is an effective treatment for reducing lines, acne and burn scars, pigment changes, and enhancing skin texture. The treatment is particularly beneficial for darker skin tones and as an adjunct therapy to accelerate or maintain other skin treatments. With virtually no side effects and excellent results in resurfacing the skin, this is a safe and reliable treatment for various skin conditions. In order to really see the visible results, this service must be done on a regular basis. It is recommended that four to eight treatments be performed for best results. Proper home treatment is a must to nourish and protect after the treatment. Upon the advice of your esthetician, Natura Activ products are recommended and sold separately. Extractions are $15 extra. Please specify if you want Micro-Dermabrasion with or without extractions.
$135 – 60 min (no extractions)
$150 – 75 min (extractions included)
$70 – 30 min (simple treatment – no amenities)
$50 – Add Microdermabrasion to any facial
CHEMICAL PEELS
Chemical Peel involves the application of a variety of chemical solutions to remove the damaged outer layers of dead skin cells from the skin's surface. It is extremely beneficial for many skin conditions such as hyperpigmentation, rosacea, acne, sun damage, and photo aging. By removing the build-up of dead skin cells and stimulating the regenerative process, you will notice marked improvements in the formation of wrinkles and fine lines, texture and tone of the skin, hydration, reduced pore size, clearing of blemishes and more balanced oil production and an overall healthier skin appearance.
Progressive Peel – This refers to a treatment that does not usually cause immediate exfoliation and only removes the outer layer of skin. As treatments are repeated, the skin will experience a mild sloughing.
$150 – 45 min
Mid-Depth Peel – These peels affect the intra-epidermal layer, and exfoliation occurs within two to three days after application. The skin goes through very little down time. Peeling consists of light flaking similar to a sunburn peel.
$225 – 45 min
Deep Peel – These peels affect the deepest intra-epidermal layers. The skin becomes brown and crusty then undergoes considerable peeling, which occurs three to four days after application. The skin peels in large segments as opposed to flaking. The entire process takes about seven to ten days.
$250 – 45 min
What is TCA CROSS and how does it work?
TCA CROSS is the Chemical Reconstruction Of Skin Scars (CROSS) using trichloroacetic acid (TCA). It is used mainly to treat acne scars. We understand that acne scars can cause significant psychological stress with social impact.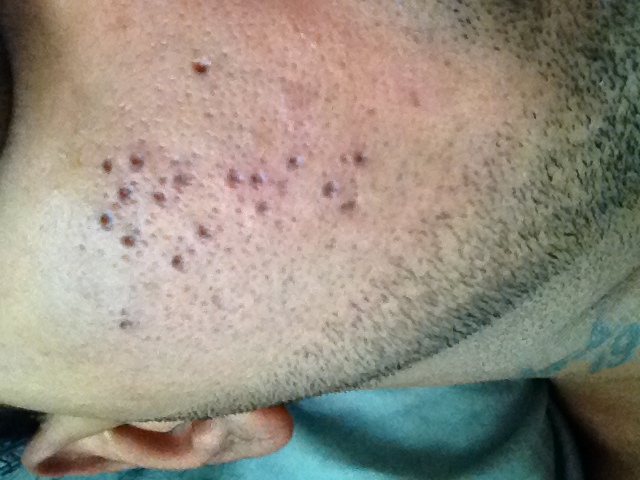 Amazing results are seen after one treatment and yet further treatments may be required up to two or three. The photo at above-left shows what the skin will look like immediately after the treatment. The white frosting appearance will last a couple of hours. After two to three days, the spots will take on a deep brown color. This is a result of the chemical burn to the deep scars. See photo at right.
The TCA CROSS procedure involves depositing small amounts of TCA at the highest concentration into the acne scar. It feels like mosquito bites. This causes a local inflammatory reaction leading to the
formation of new collagen fibers. The aim is to reduce the depth of the scar by increasing collagen and thereby reducing shadows cast over scar depressions. If you have any type of acne scaring such as ice pick, boxcar or rolling acne scars, you are a great candidate for the TCA cross.
1-5 scars $95
6-10 scars $125
11-15 scars $155
16-25 scars $195
26/up scars $250
PLEASE NOTE: None of these photos are my work. They are placed here to show you what to expect.
CLARITAS SKIN REFINEMENT
This treatment creates a glowing complexion and is a non-invasive, gentle-to-the-skin treatment. Most clients indicate the sensation is a slight tingling feeling, much like pins and needles as when your foot goes to sleep. This treatment is very popular in Asia, and has been made famous by Asian Celebrities. If you're looking for a quick quality skin rejuvenation with no downtime, do what they are doing in Hollywood just before they hit the red carpet, The Claritas is a Super Light procedure for enhancing the skin's radiance and promoting a smooth, glowing complexion. It helps to reduce imperfections like enlarged pores and acne, which originate from the outer skin layer. This facial treatment gives an instant improvement to your skin tone and texture, many people like to have a single session to have china doll porcelain skin before a big event or night out. Price varies per area – SEE – CLARITAS SKIN REFINEMENT FOR MORE INFORMATION
PINTRA SCAR & DEEP WRINKLE REDUCTION TREATMENT - Micro-Needling & Radio Frequency
Living with acne scars day to day may be difficult for you. If so, Pintra Scar treatment may be the perfect option for you. This treatment is a minimally invasive skin rejuvenation treatment with quick recovery time and is designed to stimulate the body's natural collagen production.This is a unique way to address and correct the following:acne scars, surgical scars, chicken pox scars, stretch marks, wrinkles and upper lip lines, hyperpigmentation, lax skin, sun damaged skin, large pores and skin texture. $145 – 45 min
PINTRA SKIN REJUVENATION - RADIO FREQUENCY ONLY
PINTRA SKIN REJUVENATION delivers thermal energy to the treatment area safely & effectively. Pintra is safe for all skin types. Pintra Skin Rejuvenation is a non-invasive fractional skin rejuvenation treatment utilizing radio frequency with quick recovery time. It is designed to stimulate & remodel the body's natural collagen production. This is a unique way to address and correct the following: acne scars, surgical scars, chicken pox scars, stretch marks, wrinkles and upper lip lines, hyperpigmentation, lax skin, sun damaged skin, large pores and skin texture. $135 – 45 min
RADIANCE POWER PEEL RESTORATION
The ultimate resurfacing & nourisment treatment to transform your skin. Combines technology (Diamond Peel & Hydra-Brasion) with mega-doses of cell-targeted ingredients to gently resurface your skin, getting rid of dull and lifeless complexion. This treatment will accomplish an off-the-charts glow and boost collagen for smoother, flawless skin. $150 – 90 min
SUPER BOOST REJUVENATE
This blended facial protocol utilizes gentle to intense exfoliation and enzymes to super-boost exfoliation without the risk of irritation. Oxygen infused serums are applied afterwards to enhance the glow of your skin and evens skin color for a fabulous anti-aging treatment. $165 – 75 min